Vegas Technology Vegas Strip Blackjack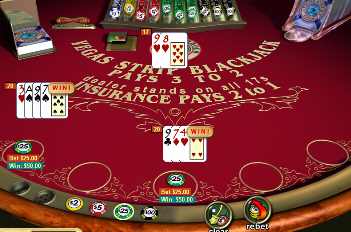 Whether or not you've been to Vegas, you can understand how potent Blackjacks call is to brick-and-mortar and online gamers alike.
It's not only the glitz and the lights and the energy, it's the game selection, the new variations of old games, and the ability to change atmospheres—from a country to a place in time-by just walking down the street.
The advantage online gamblers have, however, is the fact they can just click on a different casino if they want a change of pace, odds, or streak.
Vegas Technology's answers the call of the Las Vegas personality and has modified its classic blackjack game to create a little twist it likes to call Vegas Strip Blackjack.
Here are the main differences from its European Blackjack:
The Dealer will check ("peek") for Blackjack before a Player's turn to call if an Ace or a 10-value card shows in the Dealer's hand,
Doubling is permitted on ANY first two cards. Players can double after a split as well.
Player can re-split twice on a split hand, with the exception of already split Aces.
Because of its popularity, all of our recommended Vegas Technology online casinos will have Vegas Strip Blackjack in their arsenal. Keep in mind, however, that the betting limits at the tables may be different with each site; Millionaire Casino, for instance, has a higher minimum and maximum ($10 to $300) than the typical Vegas Technology norm ($2 to $200).
Because of these differences, it's always best to familiarize yourself with the casinos rules and regulations before playing.
What happens on the Vegas Strip Blackjack table stays on the Vegas Strip Blackjack table—unless, of course, you win. Then you can take it wherever you want. Check out our recommended casinos today!