Vegas Technology Perfect Pairs Blackjack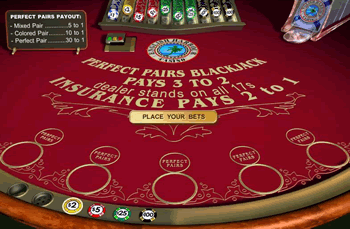 Vegas Technology's Perfect Pairs Blackjack is an amped up version of their European Blackjack game. It features a side bet that wagers on whether or not an upcoming hand will be a pair of the same rank.
When it is, it's a perfect win. When it's not, well, then it's time to play again.
In this game, the cards are dealt from four decks (minus the jokers). All other European Blackjack rules apply. Perfect Pairs will pay the highest for pairs of the same color and rank, but it also has plump winnings for pairs of any kind:
Perfect Pair (two of the exact same card) pays out 30 to 1
Colored Pair (a pair of the same color) pays out 10 to 1
Mixed Pair (a pair of the same number or face card, one black and one red) pays out 5 to 1.
Remember, you can't be paid these incredible payouts if you don't place a side bet wager. While you can bet up to $200 per hand in most casinos, your Perfect Pair bet is limited to $50 each time the cards are dealt.
Like any side bet, the stakes are high and the odds are extreme, but if you can land it, it will be some of the easiest money you've ever had the pleasure to do your happy Blackjack dance around.
If you'd like to spice up your blackjack game, playing a side bet is a great way to get the adrenaline pumping.
You'll find Perfect Pairs Blackjack at the Vegas Technology's Casinos listed below each features several other blackjack gaming options, like Vegas Strip, European, and Progressive Jackpot. Explore your many options by visiting a Vegas Technology online casino today!