Vegas Technology European Blackjack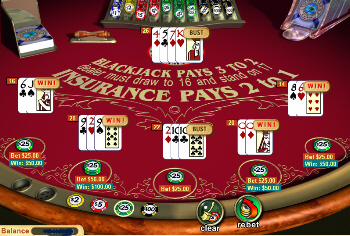 Of the several versions of blackjack Vegas Technology offers, European Blackjack is one of its most popular. In fact, European Blackjack is so common in Vegas Tech casinos that some of them just call it blackjack, which is an important note if you automatically assume it plays with the natural rules.
Luckily, European Blackjack doesn't fall that far from the classic blackjack tree (or deck, as it were).
European Blackjack rules offer only slight variations to classic blackjack, and if you're not the type of player who lives for splitting or doubling your hand, then you might not even notice the difference.
The biggest change European Blackjack brings is the limited ability to double on any hand; in European Blackjack, you may only double if your initial two cards total 9, 10, or 11.
For those unfamiliar with the concept, doubling is when you wager that your next card will create a total that beats the completed hand of the dealer, at the price of an additional wager equal to your additional bet.
To "double" a blackjack hand, you'll be doubling your wager with the hopes that a win will bring you double the payout.
As with several other blackjack games, you can also double after a split in European Blackjack.
Luckily, you don't have to do too much math here—the "Double" button only appears when it's allowed, so you won't feel like a fool for trying to do something that isn't permitted.
You can play European Blackjack at several Vegas Technology online casinos. All of our recommended online casinos are chosen specifically for their game selection, excellent customer service, and fair payout/withdrawal performance.