Free Tribble Scratch Game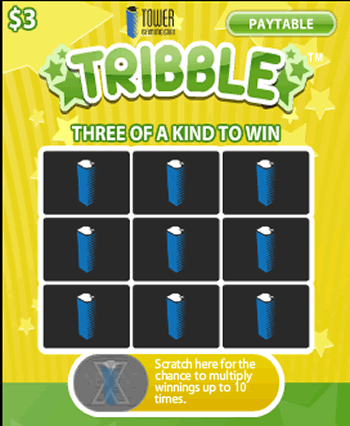 This free Tribble scratch game, with payouts up to $100,000 and a multiplier up to 10x, is everything you like about scratch games; like instant gratification, high payouts, a cool reveal, and nothing you don't, like getting that gray wax under your nails.
About this free Tribble scratch, free scratch and win game: Featuring nine squares and one mystery multiplier, Tribble from Net Entertainment is a surprisingly addictive scratch game that is almost as good as the true-blue, bought-it-with-a-tank-of-gas-and-a-Slurpee variety.
You can choose to make this Scratch and Win game feel as realistic as possible by selecting one of the available Scratch Tools: a key, a bottle cap, or a guitar pick. Then scratch away in whatever pattern or order you feel like. If that feels like too much effort, drop your mouse on the "Scratch All" and let it ride.