Free Three Card Rummy Game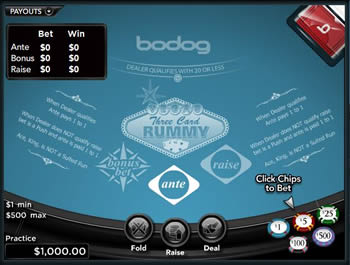 In this free Three Card Rummy game the Dealer qualifies to play the game with a score of 20 or less, so play wisely.
Free Three Card Rummy wagering: Bets start at $1 and max out at $500, so it will be up to you how long it lasts.
You'll have three cards in which to beat the dealer with points or a suited run. This version of 3-Card Rummy features a bonus bet that can pay out as much as 100 to 1.
The writing may be on the wall in some situations, but with RTG's free Three Card Rummy, it's all over the table.
Learn the ropes in practice mode for as long as you can keep your play money going.