Free Rock Paper Scissors Game
Rock Paper Scissors - Free Online Rock Paper Scissors Game by Playech.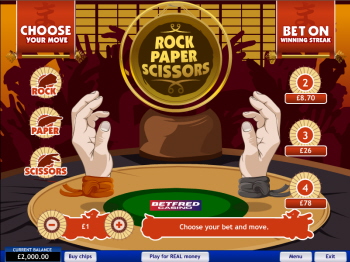 This free Rock, Paper, Scissors game is a casino game that is a spin off off of the theme of the original childrens game.
In this free Rock, Paper, Scissors game, you can choose you bet of 10 cents per game, up to $10 per game.
Then choose your move of rock, paper or scissors and sit back and watch the two hands fight it out.
You need to pick 3 moves correctly to win the maximum amount of money in this nifty little slot game.