Free Keno Game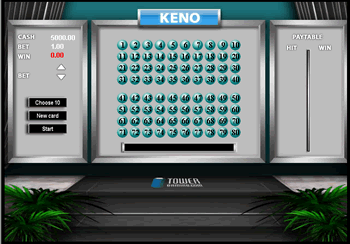 This free Keno game by NetEntertainment is a really easy game to play and can have huge returns if you get a run of numbers!
Free Keno game wagering: All you have to do is choose a coin amount to play; from $1 to $5 per game.
Then choose between 2 and 10 numbers by clicking on that number.
You can also have the free Keno game choose the numbers for you if you like. The more numbers you choose and the more numbers picked gives you a much higher payout.
The numbers are selected randomly and highlighted on the board. Your picks are in red. The random numbers picked are in yellow.
When the number you pick and the number generated by the game are the same, they display as green. Then the number of hits and the amount bet determines the amount won.