Free Baccarat Game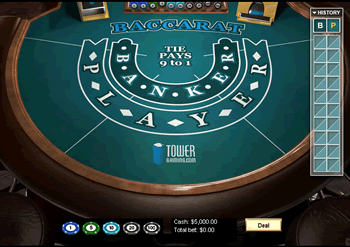 Play this free Baccarat game, whether you wager on the Banker, the Player or the Tie, you're in for hours of entertainment.
Free Baccarat game wagering: Chip sizes are 1, 5, 10, 20, and 100. Play up to $100 per line and watch it come back doubled with each win. If you wager and win the Tie, the odds are 9 to 1!
The object of this free Baccarat game is to bet who will have a higher hand total, the Player or the Banker.
Keep in mind that the names "Player" and "Banker" don't represent you and the house (think of them as just two dudes with unfortunate names playing cards).
The cards are totaled as follows:
Aces are 1 point.
Numbered cards 2 through 9 are counted at face value.
All face cards and the number 10 card are counted as 10.
When totaling a hand, the "tens digit" is dropped. This means that if you have a 9, a 5, and a Jack, your total, normally represented as 24, is a Baccarat total of 4.
The name Baccarat is unusual in that it's named after its worst hand-all zeros. Three Kings may be a great poker hand, and even a good Bible story, but a quite unfortunate hand in this game. Unless you wagered your bet on the other player, of course!
Free Baccarat wins are added at the bottom, and the history of the wins is displayed to the right of the game table.
Try something new-play this free Baccarat game today!