Free High-Low Game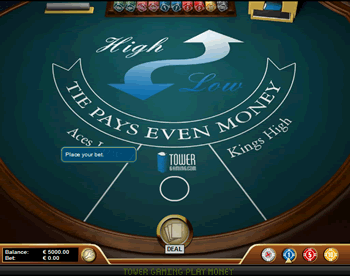 Play this free High-Low game if you're in the mood for something quick and easy, and the surest recipe to be fed, relaxed, and rewarded!
Free High-Low game wagering: Choose among bet amounts of 1.00, 5.00, and 10.00; chip sizes are 1, 5, and 10.
With every card dealt in free High-Low, you'll be presented with the odds of winning when choosing high or low, so you can see how much your bold moves will reward you (or burn you).
In this free High-Low game, the graphics are crisp, the play is fast, and the concept is simple: choose whether the mystery card is going to be higher or lower than the card displayed.
In this version of free High-Low, the game actually calculates your odds with either bet, and lets you know the take should you guess correctly; ties are a wash, Kings are high and Aces are low.
This free High-Low game is as entertaining as it is addictive!