Free Deuces Wild Video Poker Game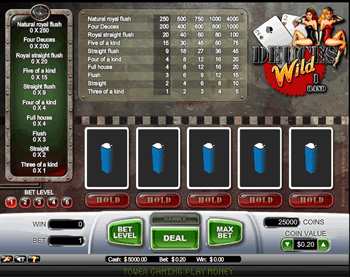 The 2's are wild in this free Deuces Wild video poker game, and they are not shy about it! Give it a try, it's free.
Free Deuces Wild video poker game wagering: Coin sizes are .05, .10, .20, .50, 1.00, 2.00 and 10.00. Bet 1 coin per hand or 5 coins per hand; minimum bet is .05 and maximum bet is a daring $50 per hand.
Free Deuces Wild poker Jackpot.
Risk some to win some-the 4000 coin jackpot can only be won by those who bet the max! Take a walk on the Deuces Wild side.
It's just like poker, only with a few wild cards thrown in. Those Deuces know how to liven almost any hand-and as often as they come up in the deck, they're not afraid to come back again and again.
You'll try your odds at the following hands, ranked from highest to lowest payout:
Natural Royal Flush
Four Deuces
Royal Straight Flush
Five of a Kind
Straight Flush
Four of a Kind
Full House
Flush
Straight
Three of a kind.
Play free Deuces Wild today with 10 ways to win, and all are waiting for you!