Free Craps Game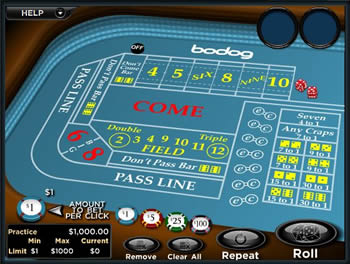 This free Craps game, by RTG, offers wagers from $1 to $1000, as well as plenty of instruction if you've been too intimated to play Craps in the past.
You may have heard the expression playing the field, but you might not have known that it came from the game of Craps. And it applies as well to dating as it does to this popular dice game-placing a solid bet (or a wide net) on a variety of options hoping to score big.
Playing free Craps from RealTime gaming gives you the best of both worlds-real game experience without a real price tag (until you're ready).
For more details about RTG Craps, read our full-page review.