Free Baccarat Game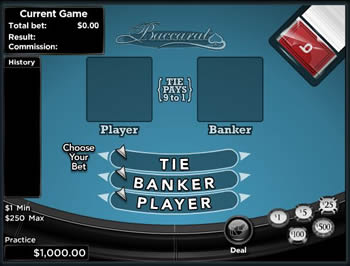 If James Bond didn't have money to burn, chances are he'd be playing RTG's free flash Baccarat game. Whether you choose the Banker, the Player, or the Tie to win, your bet will have to be at least $1, and no more than $250.
Baccarat has a simple objective-correctly pick which hand will have the higher Baccarat score, the Banker or the Player or Tie (correctly wagered, the Tie bet pays 9 to 1).
The score is determined by adding the cards and using the "one's column" digit; therefore the highest score you can get is 9 and the lowest is 0.