Cryptologic Multi-Split Blackjack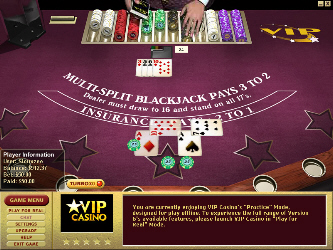 If you are a fan of doubling and splitting when playing Blackjack, this is the game for you! Very liberal limits are set without sacrificing the payout ratio. In this game:
8 decks are used and shuffled after each hand.
Dealer's hand has one card face up, one card down (hole card)
Dealer stands on all 17 's
Player's Blackjack pays 3:2
21 pays 1:1
You can double down on any 2 cards
You can double after splitting
You can re-split a split hand 3 times
Only one card dealt to split Aces
Only the one hand game version is available at this time, no surrender is available and insurance is available, but don't feel you have to use it just because its there!
Play Cryptologic Multi-Split Blackjack at the Following Recommended Casinos: