You Bingo Website Review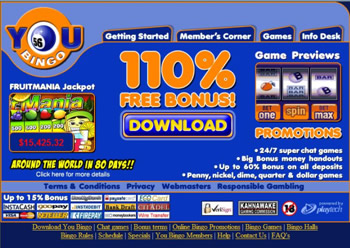 You Bingo features a choice of Bingo Halls.
Each one of You Bingo's Bingo Halls has its own game schedule, Chat Room and dedicated Chat Team. The main difference between the Halls is that the Cabaña Café has a maximum card purchase of 135 cards per game, while the Liberty Lounge is limited to just 50 cards per game. This is designed to create an environment where players can choose the game that best suits their budget.
You can, of course, double your chances of winning and buy cards in the Cabaña Café, then enter the Liberty Lounge and play there too! How Exciting!!! That is if you are a multitasker..LOL
They have 24/7 chat games. 110% on first deposit, and up to 60% on all other deposits!!
Enjoy penny, nickel, dime, quarter and dollar games. Also slots, scratch off's, and other side games.
Check out their home page for the many, many ways you can deposit.. You never run out of options here..!!! Try them!! Have fun!! And Goodluck!!!
Check the links below for more information on You Bingo's chat games and rules: