Virgin Bingo
Virgin Bingo is no longer available on the internet. We suggest playing at these online bingo rooms.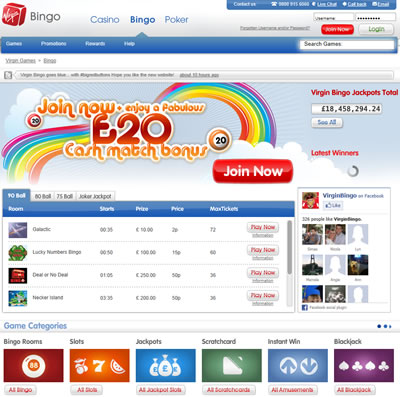 Regardless of your time zone, Virgin Bingo offers both 90-ball and 75-ball pattern bingo tournaments and promotions around the clock. And of particular note, Virgin Bingo online gives you the opportunity to win some really usable prizes; groceries and plane tickets! Finally something I can use!
They also have a way for you to donate some of your good fortune to the less fortunate, which is the definition of responsible gaming, and well, good karma.
Whether you fancy the 90-ball bingo games, 75-ball pattern bingo, chat bingo, or bingo scratch offs, the number of chances to win is endless. I'd recommend Virgin Online Bingo whether it's your first time or not.
Virgin Online Bingo Promotions
Keep your eyes open on their Progressive Jackpots; you could be the next winner just by playing Virgin Bingo's selected games.
Cash Match: See the latest Virgin online bingo bonuses for their up-to-date bonus offers.
Monthly Prizes: From Tesco vouchers to duvet covers, movie tickets and more, these prizes change monthly and are nicely season specific.
Daily Promotions: There's something cooking every day of the week, from BOGOF Mondays, Buy One Get One Free, to Sunday's Cash For Life Jackpot.
Weekly Promotions: Check their site for the latest weekly promotions in online bingo.
Monthly Promotions: If you've purchased over 5000 bingo tickets during the month, Virgin Bingo will give you 250 more. If you're in the Top Ten for ticket purchases, you'll get 500 more. That's the Bucks Back Bonus.
All prizes and promotions are subject to change over time, so please check out Virgin Bingo online for the latest updates and promotional offers.
Virgin Bingo Online Features
Quick Buy: Always a nice feature, Quick Buy allows you to buy tickets in a pre-determined amount; 1, 2, 3, 5, 8 or Max. This way you won't waste any time if Lady Luck is calling the numbers.
Auto Daub: If you're eyes were bigger than your stomach, or in this case if you're hunger to win is greater than your manual dexterity, the Auto Daub feature automatically marks all the numbers as they are called, regardless of the insane amount of tickets you may have purchased.
Virgin Bingo also has a manual daub feature if you prefer a more hands-on approach. Either way, you can personalize your dauber.
Best Card Sorting: A feature I wish they had in restaurant menus, for chocolates and when choosing a potential date at the bar. Alas, while it has a long way to go in those departments, it works fabulously for bingo; arranging the tickets so that the ones more likely to perform are nearest the top.
Virgin Bingo Wishing Well: If you've been calling your fairy godmother and always get sent straight to voicemail, this is your chance to call in some reinforcements. Just email the WishingWell with what's on your list; dream vacations, laptop computer, someone to do your ironing, sorry, that's on my wish list, and see if it comes true!
Virgin Online Bingo Games
75-Number Bingo:
The Square North American game also referred to as Pattern bingo. Virgin Bingo spices things up by throwing in different patterns each game, including a few of their own signature ones. If you've only played Bingo using a straight-line or four-corner pattern, you are in for a special treat.
90-Number Bingo:
Happiness in bingo is a 3 by 9 card. If you're only familiar with 75-Number Bingo, it's time to hop across the pond, both of them for that matter, and see how the British and the Australians do it.
Whether you pattern a single line, two lines across or a full house, this game is as fun as it claims. Keep in mind dear players, that getting a "ticket" towards a good "strip" means something completely different here!
Virgin Bingo Online Chat Games
Bingo Battleship: I love this game! The Chat Master (CM) has a secret "ship" made up of 3 numbers on the flash board. Each winner in the room can try to "sink" the ship by taking a stab at guessing which numbers make it up.
Lucky Dabber: Like "Hot Potato", only the one holding the lucky dabber at the end of the time period wins the prize!
Five Alive: Each player selects 2 bingo numbers, with the goal to have at least one be among the first 5 called in the game.
Trivia: The first person to answer the CM's question wins! More proof that there is no such thing as useless knowledge.
Virgin Bingo Points or VPoints
Players can earn VPoints on both types of bingo games as well as several side games; like Keno, Hollywood Reels, Gold Rush and etc.
These points are eligible for more than just cash; you can buy Virgin products, airplane tickets or donate to the Virgin Unite Charity and you'll be matched penny for penny.
Virgin Online Bingo uses Parlay software, is owned and operated by St. Minver Limited in Gibraltar and licensed by Parlay Entertainment of Oakville, Canada.
Play Virgin games.