Tiki Bingo Website Review
I love playtechs software and the skins people make are amazing. Tiki Bingo is perfect from head to toe, this Hawaiian tribal themed site has beautiful bamboo boxes, cute little tiki men, and realistic jungle sounds to boot. Aesthetics are a big selling point, if you're going to sit in front of your computer for hours on end you don't want to be staring at something ugly.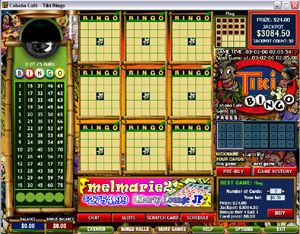 Game play is also key in a good site, tiki doesn't suffer in this department. Four bingo halls are offered within the lobby, each offers different card prices depending on the time of the day.
All halls play different games and special chat games apply to all of them. Slots are offered along with keno, scratch cards, roulette, and video poker. You can play some of these within the lobby and some like megaball open up in there own window.
Specials are run every hour of every day. You can get a schedule of all the games within the program and you can get a list of all the great chat specials on Tiki Bingos website.
The bingo games usually have a max number of cards, therefore if there are 10 people playing and they all only buy one card and 120 cards are available, you can only purchase 110. Most of the time there's no reason to buy that many cards, but if you want to buy a lot you are limited.
You can receive a 110% deposit bonus your first time around and 60% for all deposits after that. Simply use Neteller, Moneybookers, or Wire Transfer when depositing. Withdrawals are offered using the same methods and are quick and easy. Tiki bingo is one of the best in the game and very reliable. Their staff is super friendly and willing to help you with whatever you may need.