Bingo Splash
Bingo Splash is no longer available through our site due to unforeseen circumstances. We suggest trying these online bingo rooms.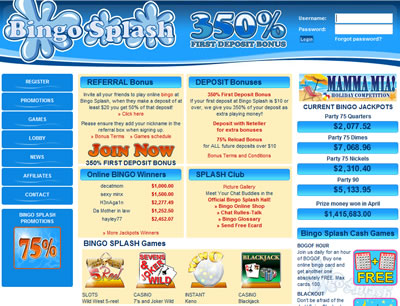 If you like the beach as much as I do, you'll probably love Bingo Splash! This amazing beach themed venture, running on the ever growing Bingo entertainment software is sure to bring you hours and hours of entertainment.
Bingo Splash offers online bingo and one of the lowest minimum deposits out there, you can start playing with as little as $10. When making your first deposit your eligible for a 100% match up to $200. After that every deposit you can get a 50% bonus, still a great deal.
Bingo Splash also offers a variety of different slots and video poker games within the bingo game itself. Tournaments are offered for these games along with bingo on a monthly basis.
Bingo Splash online bingo Specials are run ever day with cards priced from 5 cents to 25 all with a minimum of a $10 prize. Weekend dimes offer some humungous jackpots to get your hands on as well as some great normal pay outs.
Although the minimum deposit is $10, to make a withdrawal you have to cash out $50 or more. Gift certificates can be purchased and given to friends, just make sure everyone is 18 or older. These gift certificates can be used on every game on Bingo Splash, nothings off limits!
Make sure your gift receiver plays it though at Bingo Splash, because certificates are only good for 30 days (it would be nice if this was a bit longer). If not used the money simply gets credited back to your account.
Bingo Splash online bingo is an incredibly fun site which is always offering some kind of cool monthly promotion. National women's day is approaching and Splash is giving out $100 cash prizes and $3000 jackpots! This is just an example of what they do every month, give them a daub! Bingo Splash does not accept US players at this time.