South Beach Bingo
South Beach bingo is no longer available through our site due to unforeseen circumstances. We suggest trying these online bingo rooms.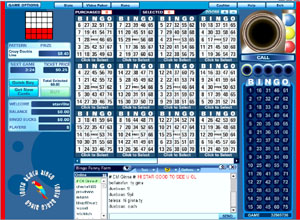 South Beach bingo is a great little bingo site with lots of friendly players ready to make you money. I came looking for a good straight forward bingo game and that's what I got, South Beach has a very nice tropical themed lay out that's quite easy to navigate.
Bingo is offered in both flash and downloadable versions, the flash version works just as good, but if you play a lot it would probably be nice to have it on your desktop.
Buying cards is quick process and if you don't like what you see in front of you, you can hit the get new cards button or if you're in a rush just hit quick buy and it will pick them for you.
There's also a nice little automated voice that alerts you when you can purchase new cards, when the games going to start, calls the numbers, and when someone hits bingo. Fortunately she has a soothing voice and it's always fun to hear her call bingo when it's you winning!
South Beach bingo online also offers Keno, Pull Tabs, Slots, and Video Poker in real money environments. If you want to give them out a try before hand, you can play slots and video poker for free. They offer nine different types of video poker machines and ten different slot machines for your enjoyment.
You can also earn bonus points which you can later transfer over into real cash for play, this on top of their referral incentives is a cool bonus, the more ways to make money the better!
Overall South Beach online is a solid bingo endeavor that has some cool features and a good player base so you're never short on action. They also have some good day to day promotions so it's good to keep an eye out on those. Check them out!