Saturn Bingo Review
Saturn Bingo is an out of this world experience! This bingo site has a whole multitude of offerings for you to enjoy. Saturn Bingo has bingo cards from a dime all the way up to a buck, the bigger the buy in price the bigger the prizes. There are some incredible jackpots to be won here. Saturn bingo has had multiple $10,000 mega winners on top of some people who have topped that! You can check out all the big winners on Saturn's site.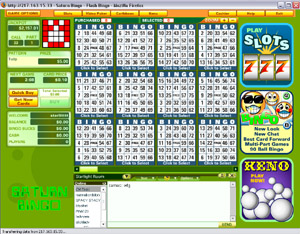 Refer a friend and receive 10% bonus for every deposit they make and you can also gain star bucks. Star bucks can later be cashed in for real money and either played or cashed out depending on how many points you have.
Saturn Bingo carries a whole bunch of other games, not just bingo. You can play an assortment of slot machines all with fantastic progressive jackpots. Video poker and pacific poker are also available in a couple alternate versions as well as pull tabs and the widely offered keno.
If you want to know when each type of game is played schedules are available on the site and within the game itself. You need Macromedia flash player to be able to play because it is a full flash site. If you don't like playing out of your browser a downloadable version is available on the website for download.
Live help is available on site and you can also talk to the chat masters if you have any questions, they are always ready and willing to help. If you want a record of all your play, including deposits and withdrawals you can get a report on the Saturn Bingo website. You get $5 just for signing up, no deposit needed, you just have to contact support once you've registered and they will add it to your account. What do you got to lose?!