RV Bingo
RV Online Bingo is no longer offered on our site due to unforeseen circumstances. We suggest trying these bingo rooms. Thank you.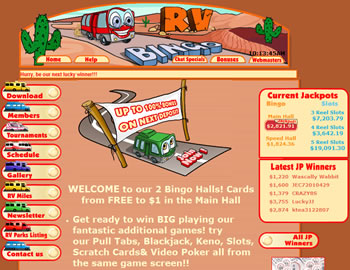 Let's hit the road in an RV with RV Bingo! Take a ride and win lots of loot, have lots of fun in the chat games with some great CM's, and get free money! RV Bingo is the place to be, if you want to know what the next ball out is going to be! Play in many of their side games; such as slots, blackjack, video poker, keno, scratch offs, and pull tabs.
The RV background is easy on eyes with their neutral colors and easy to see bingo board. RV Online Bingo makes it easy to choose what room you want. If you want regular bingo called, choose their main hall. But if you like it fast and furious, choose the speed hall. Better yet try them both! Things are never dull in this RV, and plenty of room for all!
RV Online Bingo Promotions
New customers can double their money with the latest RV Bingo bonuses. When you get a friend to join; get 50% bonus bucks on their first deposit! With a lot of friends, you can sit and play all day and all night.
With the experienced and creative CM's at RV Bingo online, enjoy the fun chat games for extra bonus bucks, and have a blast with your chat buddies too! Their main hall has card prices from one cent to $1.00 cards. And they always surprise you with a Free game once in while!
Other Games and Features at RV Bingo
The side games can be played without leaving your bingo hall. They have plenty of online games to choose from:
RV Bingo Online Slots
Magic Balloons
Bank Heist
RV Race
Lucky Wheel
RV Bingo Online Video Poker
Deuces Wild
Bonus Poker
Joker Poker
Jacks or Better
And if that is not enough you can try Keno, Scratch Offs, Blackjack and Pull Tabs!
It is easy to play bingo and your favorite slots with the RV bingo online auto bingo and auto daub features. You can also pre-buy your cards! What else could you ask for?
RV Bingo online is using Byworth Investment Software, operated by Pick 11, Inc., and governed by Delaware law.