Premier Bingo
Premier Bingo is not available through our site due to unforeseen circumstances. We suggest these online bingo rooms.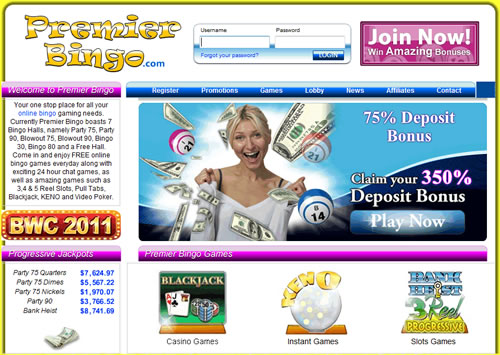 Premier Bingo provides a variety of online bingo games, from their six halls in 30 Ball to 90 Ball Bingo, as well as their newest Free Hall in February 2011, and an impressive selection of instant win, slots, and other casino games!
Premier online bingo certainly makes sure its bingo players are well stimulated, with monthly bingo tournaments, ever-climbing progressive jackpots, and enough chat games to make your fingers cramp; plus get fully entertained and flush with promotions and bonuses.
Premier Bingo online is a member of the Bingo Entertainment Group and joins the likes of Bingo Gala, Imperial Bingo, and Bingo Splash. You may notice the familiar bonus schedule or progressive jackpot amounts.
You may also notice that Premier Bingo not only features the six typical Bingo Entertainment halls; Party 75, Party 90, Blowout 75, Blowout 90, Bingo 30 and Bingo 80, it also features a seventh online bingo hall—their brand new FREE Hall, which was introduced in February 2011.
Premier Bingo Promotions
Outlining each and every special would take up too much of your precious only bingo time, so I'm going to hit the highlights with popular options and unique promotions. Premier Bingo will follow suit with most of the Bingo Entertainment group, and for good reason—if it's not broken, why fix it? See the latest Premier Bingo bonuses before you play.
Premier's Cash Bingo Promotions: If it weren't for cash prizes, would we really be here? Well, probably, but winning real money helps us justify the time spent. Enjoy $30 pots and a $1500 jackpot during the Party 75 Hall's Mid Day Mayhem (12-1pm EST). Hunker in for a Full House £200 jackpot in the Party 90 Hall.
Premier's Penny Bingo: There's nothing wrong with playing cheap and easy. The Blowout 90 Hall features Penny games at 4pm that award £10 prizes. Additionally, for every 10 cards you purchase, you get 5 cards free!
Premier's Chat Bingo Promotions: Like I mentioned in the above online bingo hall descriptions, Premier Bingo is not at a loss for words when it comes to chat games. Win a huge stock of BBs just for having eagle eyes and rapid-fire typing skills!
Premier's Free Bingo Games: It wouldn't be a Premier Bingo hall if it didn't entice you with free bingo or BOGOF offers at nearly every turn. There's always something being given away for nothing at Premier Bingo, but you may have to play a bingo game out of your comfort zone to get it (it's worth it—all bingo is fun bingo!)
The Premier online bingo promotions and schedules change all the time, so make sure to check back to their online details and terms and conditions.
Premier Bingo Games
Premier's six typical halls; the following is what to expect to find. Details are still being released about their Free Hall, but we hope it's self-explanatory.
Party 75 Hall: A chatty American-style online bingo hall filled with round the clock chat games like "Woohoo!" and "Tic Tac Toe".
Party 90 Hall: This "online bingo from across the Pond" features another set of chat games in the likes of the 90 Ball game. Play "9 Ball", pick a horse in "Races", and take advantage of the BOGOF offers that run daily through this room.
Blowout 75 Hall: For those who like your 75 Ball bingo at a nice and quiet discount.
Blowout 90 Hall: Pence and penny cards for the rest of us.
Bingo 30 Hall: These 3-in-1 online bingo games are quick, cheap, and dirty (just how I like my martinis).
Bingo 80 Hall: This hall is all about the rollover jackpots, which keep rolling over from game to game until someone finally wins within 10 numbers!
Each Premier bingo online hall will feature specific hours for specific denominations; games will range from a penny or a pence a piece to 0.25 credits each, depending upon the hour and schedule.
Premier Bingo Side Games
Let's face it; sometimes we all need a break from the world's favorite community game. This doesn't mean you have to leave the Premier Bingo building, however; you just have to open a different door!
Online Casino Games: Ten different casino table games await you, from Aces and Eights video poker to Caribbean Stud and the new Jackpot Keno.
Online Instant Games: If the play is never fast enough, consider playing online instant-win games. All of your favorite bingo games are available in an instant version, as well as Keno, Wheel or Wealth, and four Jingo games. There is also a whole host of Pull-Tab games to choose from.
Online Slot Games: There are 15 different slot games to break up your game play, including Bank Heist, Emotions, Spin Castle, and Scheherazade (no, there isn't a bonus for correct pronunciation).
There are several progressive jackpots available for these side games, so you aren't missing out on big money just because you're taking a break from big money bingo.
Play Premier Bingo online when you're ready to step into something a little more comfortable. You'll be glad you did. Premier Bingo does not accept US players at this time.