Playtime Bingo
Playtime Bingo is no longer offered thru our site due to unforeseen circumstances. We suggest trying these bingo rooms. Thank you.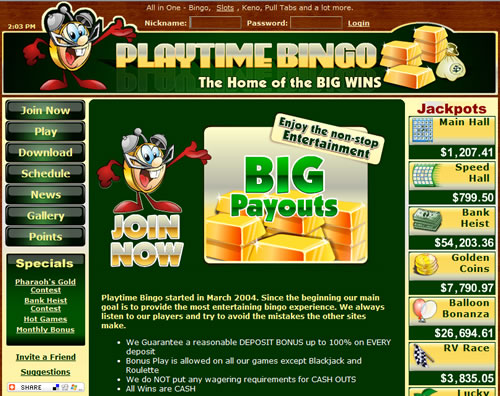 When you get tired of housework and just want to play some bingo to get your mind off your worries, then it's time to check out Playtime Bingo.
Just download the program to see some of the best graphics and the latest in bingo software. It was voted Site of the Month in November of 2008.
Play your games all on the same screen; you can play slots, keno, scratch off's and other games without leaving the bingo room.
Playtime Bingo Promotions
Playtime online bingo has offers for their new players' first time deposits; check out the latest greatest bingo bonuses. Then on Thursdays they have a 100% match on all deposits for 12 hours; from 12:01 am to 11:59 pm. They also have special games played at different times with fixed jackpots, along with a Colossal Jackpot game for a $10,000 Jackpot.
Playtime Bingo Games
In the Playtime bingo Free hall they have certain hours where you can play nickel cards for a progressive jackpot and for $10 or other prizes.
The progressive jackpot in their main and speed halls have thousands in cash prizes, along with their progressive 3 reel, 4 reel and 5 reel slots.
At all times you can see how many are playing and how many are getting close to a bingo at Playtime. Then with the color changing cards makes it easy to see when you get close.
Playtime Online Bingo has two halls;
A 75 ball hall,
And one called Speed or Free hall.
Even though the Playtime Bingo online free hall is free, when you win a $1, it can be used in the main hall. Playtime bingo loves to treat their players with great bonuses. Their software is great, easy to use and has all the extras, and with a floating chat, that you can size and move practically anywhere you want it.
If you are looking for a bingo site with lots of chat games that give you BB's with free money to play with, you have found the right site. Playtime online bingo has penny card games, 5 cent card games, and 25 cent card games. From the bingo room; you can look at the schedule to see what is playing and when.
Playtime Bingo Other Games and Features
Playtime online bingo has a lot of side games to play and on the same screen as the bingo games. Their slot games are:
Golden Coins
Balloon Bonanza
Lucky Wheel
Bank Heist
They also have Blackjack, Video Poker, Pull Tabs, Keno, and Scratch Cards.
With the Playtime bingo online auto-daub feature it is easy to play as many cards as you want. And you can even pre-buy your cards for games that you want to play and can't be there to play them. They also have different color and shape daubers.
Playtime Bingo has different tournaments too. You can check out the latest tournament details at Playtime Bingo online. Playtime Online Bingo uses Byworth Investment Software, is operated by Pick 11, Inc., and is governed by Delaware law.