Only Bingo Website Review
Only Bingo is one of the most unique bingo sites ever. If you visit there website you will notice a few interesting things. First off they have TV commercials you can watch!
They are quite funny and feature the coolest, most excited bingo player I've seen. I'm sure everyone acts the same way as she does when they get a big bingo. Okay so most bingo sites don't feature commercials, but this next addition is truly unique. RECIPES!
A whole section on the site is devoted to recipes, players can send there recipes in and have them posted on the site, it's a good way to share your tasty creations while you play your favorite games.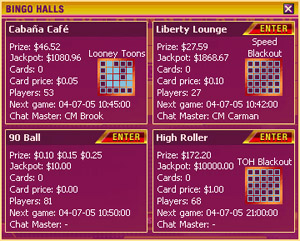 So Only Bingo has a bunch of neat things that have nothing to do with the actual games, but do they actually have a good set of games?
You bet they do. Only Bingo also has slots, scratch cards, megaball, and video poker. The bingo section features 100's of different patterns and many fun game variations.
You can get up to a 110% deposit bonus if you use my Citadel, Neteller, or Wire transfer. Only Bingo includes 4 different bingo halls with corresponding money amounts. There is a section for every limit of player, from penny to dollar.
Tons of daily specials run through out the week, keep track on the website as to what's coming up and at what times. Only Bingo runs under the playtech software and also offers the Mickey Mouse Magic trip, get enough points and you'll be on your way with 3 others to Disney world!