Kiwi Bingo
Kiwi Bingo is just as their slogan says, Great Friends, Great Fun. This jungle themed bingo venture is very well put together, one of the best sites I've played at. Once you get passed the big download (dial up be weary) set up is a breeze and you can start playing right away. Drums accompany the set up process which is pretty funny. After everything is installed you get to the cabana café, which is there snazzy way of saying lobby. From here you can navigate to the different bingo halls and other parts of the site.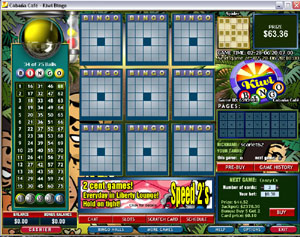 Even the bingo caller has a suitable voice, she sounds like she's an islander, touches like this make this site a blast. There is a good schedule laying out all the times of the games and the prices. Cards range from as low as 3 cents to quarter cards, all have some good jackpot possibilities.
Kiwi bingo offers a multitude of bonuses and promotions, everything from some amazing in game bonuses to some good deposit ones. Currently they are running a Mickey Mouse Magic promotion, it's a chance to win a trip for 4 to Disney world! Kiwi also give Kiwi Comps, for every $10 deposited you get a comp, these are available for all the games, When you accumulate enough you can convert them back to real money and cash it out or keep playing it.
Kiwi's chat program is superbly put together and makes it easy to contact others, they even have emoticons. You can choose your dauber color and shape a long with some other audio options in the options menu, if you don't like the girls voice you can switch it to a man. Slots and scratch cards are also available in game, if you want a break from your bingo or just need more action while you're playing. Bottom line, it's a great site for anyone and everyone who loves to play bingo.