InterBingo
Are you new to the world of online bingo? Interbingo is a fantastic place to start if you are. Not only do they offer some great introductory sign up bonuses, you can receive up to $30 free after completing your first game, but they also have on site tutorials to help you get acquainted with things and not be completely clueless your first time playing. This is a big help if you've never played before. If you're a seasoned vet, Interbingo still offers a ton for you too. On top of 100% match deposits they run lots of different monthly specials geared toward the serious player.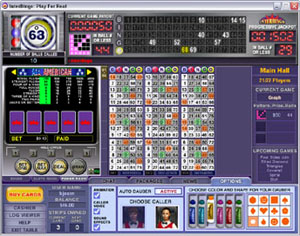 Another cool feature to Interbingo is the Interbingo community, you can upload your profile and read others, and it's a nice way to get to know the people you're playing with. The whole profile system makes it a lot more personal, usually a hard thing to achieve online.
Interbingo has a neat lobby set up where you can choose what bingo game you want to play, from there you go into the actual game and can purchase your cards and get ready to play. Everything is really customizable here, you can choose your actual dauber color and shape and who you would like your caller to be. Just some really cool added features that set Interbingo apart from the competition. There are also three really friendly chat masters ready to help and talk in game.
Aside from bingo, Interbingo also offers 5 video poker games and 3 different video slots. There are tutorials on how to play these too, if you need them. Depositing and withdrawals are quick and easy and most of the big options are available. You can make $15 for referring a friend also! One other plus is the option of ordering a cd with Interbingo on it, this can be a good option if your on dial up and cant stand downloading at such a slow speed, nice to have handy too if you have any friends who want to play. Beginner or expert, Interbingo will probably have what your looking for, good gambling!