Imperial Bingo
Imperial Bingo is not available through our site due to unforeseen circumstances. We suggest trying these online bingo rooms.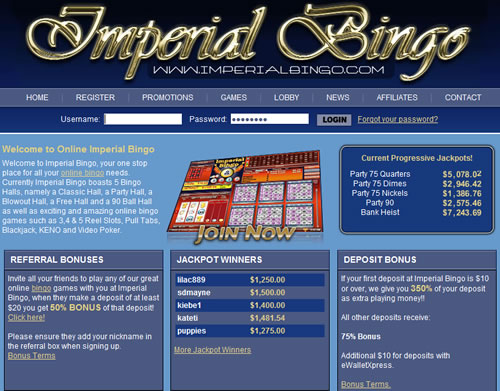 Imperial Bingo is set up to look like a big Vegas casino and it succeeds in doing so. The best part about Imperial Bingo are their chat and daily specials, they offer a wide array of games and fun patterns to win on.
You can win a good amount on small buy in cards too, 5 cent cards have a minimum of $10 worth in prizes along with dime cards. Quarter games have a $20 minimum, you can get some good value out of your nickel here.
Imperial Bingo online also has a lot of weekend and mid-week dimes with everywhere from $30 to $50 fixed pots.
Imperial online bingo has one of the best refer a friend deals. For every friend you bring in you not only get $20 like most places offer, but you also get 50% of whatever they deposit. You could make a great amount of money if you know any high rollers.
Slot machines are also offered, all of which have really big jackpots just waiting to pay out. All of this is available to play 24 hours a day.
Since Imperial Bingo is part of the Bingo Entertainment Network they run many of the same promotions. This means if you play your eligible to win a spot in the bingo world championships among other things. Another big offering is the cruise miles tournament where you can win a trip to the Caribbean.
Imperial Bingo online wants to know what you want out of there bingo site, suggestions are always welcome and they strive to make the customer as happy as possible. You really can't ask for much more, the only thing this site lacks is a lot of the poker and slots other bingo sites have, but then again it is a bingo site, so you can't knock it for it.
Imperial Bingo is worth every penny you put into it. Imperial Bingo does not accept US players at this time.