Glamour Bingo
Glamour Bingo is just what it says in name a "glamorous online bingo game". Wins the vote when it comes to style! This wonderful theme bingo game is based around all things romantic and glamorous. If you're a fan of fashion, beauty, movies and music, then Glamour Bingo is for you!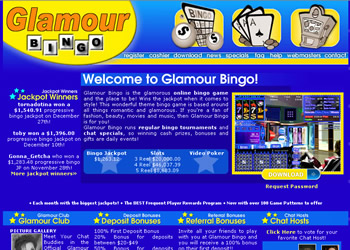 Glamour Bingo runs regular bingo tournaments and chat specials, so winning cash prizes, bonuses and gifts are daily events! Now with over 100 Game Patterns to offer, makes it fun!
The Host are friendly and very helpful. Nice environment, roomies are very welcoming!
Each Bingo card is 0,25 cents.
They do however run Specials that cards prices will be .05 and .10 cents per card.
Pull Tabs are $.25 cents, $.50 cents and $1.00.
Slots are $.05 cents, $.10 cents, $.25 cents and $1.00 per line. You can play up to 9 lines.
100% First Deposit Bonus 20% Bonus for deposits between $20-$49
50% Bonus for deposits between $50-$199
75% Bonus for deposits between $200-$499
100% Bonus for deposits of $500 and over
Referral bonuses: Invite all your friends to play with you at Glamour Bingo and you will receive a 100% bonus on their first deposit!!
Find out more about Bingo Mega: