Geisha Bingo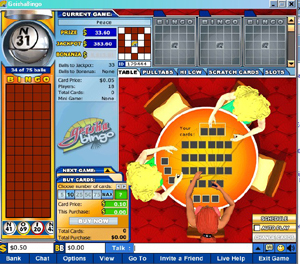 Play bingo in our 3-dimensional bingo halls
If you're bored of playing the same bingo software simply at different sites, we strongly recommend that you try Geisha Bingo. Geisha Bingo is completely different to any thing else in the online bingo world at the moment.
Geisha Bingo offers 'virtual reality bingo' - it's just like a real life bingo hall. Your 'virtual self' walks around, chooses a table to sit at, talks to other players at the table.... It is just sooooooo different.
They also have fantastic 3-Reel, 5-Reel Slots and Video Poker. The Slots all have progressive Jackpot ready to burst ranging from $8000 to $15000.
Geisha Bingo offer table games like no other site as well as 2 happy hours per day with minimum pots of $60 and reload bonuses of up to 50% !!
Geisha Bingo's software is download only, but takes a very short time to get onto your PC. Geisha Bingo looks very different to any other bingo game and takes a while to get used to. You'll need to take a while to acquaint yourself with the workings of the site.
The first thing that you should direct your 'virtual self' up the stairs, into your chosen room and select yourself a table to sit at. Once you've sat down, you can start playing. By clicking PLAY in between games.
Whilst playing you have an overview of your table and the three other player sitting with you. Your cards appear above your table and the game window includes all the usuals; game shape, current number, prize, jp, balls called, # of balls called. Card purchase is done between games only, by
But the really unique part of the Geisha Bingo game is when it comes to chat. Yes there's a space to type your chat, but when you press send, the chat appears as a speech bubble above your icon. COOL !!! This form of chat really gives you the feeling that you're talking with the rest of the people at your table. And it's probably the reason why chat games at Geisha Bingo, like the 'Big Night In', are so much fun.
We've always had great fun when we we've played at Geisha Bingo. The gang there are really welcoming and very helpful.
Any new player that signs up to Geisha Bingo automatically gets 15 free bingo cards ($3.73) and 2 Free Slots pulls (50c) to start playing at the site. Once you've spent your free cash, there's a sign-up bonus of up to 100% on your first purchase.
Testimonials
I have been playing bingo at Geisha Bingo for a very long time. I have thoroughly enjoyed my experience here at Geisha. I have won several jackpots over my period at Geisha and have made many great friends while playing and winning at Geisha Bingo. I have cashed out money several times and have not experienced any problems getting my money. The staff at Geisha are very friendly and always willing to help if I have a concern. Geisha Bingo is the only place I play bingo and I am very content with this sight.Thunderbelle "
"I have been getting a lot of questions from new players asking about Geisha Bingo. I would just like to say I've been player at this site for more then 2 yrs. I have noting but good to say about this site. They always have been fair and honest with anything I've done with this site. I've never felt cheated out of anything I felt belonged to me. I've played other sites but always come back here for 2 reasons: the CL's are great and the honesty of this site. Plus u always have someone to go to if u do encounter a problem or just need an answer to a question. I highly recommend this site to anyone who is comtemplating playing bingo for cash. You won't find a better site! yours truly,waygeo66