Desperate Housewives Bingo
Desperate Housewives Bingo is no longer available online due to unforeseen circumstances. We suggest trying bingos in our Bingo Bonus section.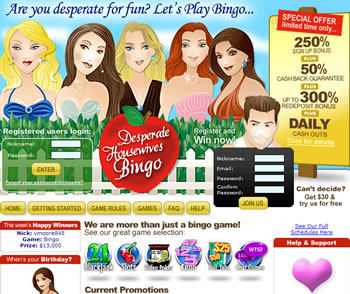 It's the group of hot housewives we've all learned to love, and sometimes despise. Now you can take a bite of the apple as well at Desperate Housewives Bingo, with several styles of fun bingo games and other online games as well, in its tantalizing online bingo room that's more stimulating than the young shirtless garden boy. So go ahead, nobody is watching, give into temptation and leave your inhibitions behind.
Once inside, you will instantly feel what it's like to be treated with the respect you deserve. Desperate Housewives Bingo gives new players a nice sign up bonus and a cash back guarantee, plus a hefty redeposit bonus. When you refer a friend, and they make a deposit, they will also treat you to 100% in bonus bucks plus 10% in bonus bucks on every deposit they make thereafter. This is one secret you will definitely want to share with your friends.
Waiting for a bingo game to start? There's nothing wrong with getting a little on the side. Desperate Housewives Bingo also offers blackjack, slots, video poker, keno, pull tabs and chat games to keep you satisfied while the game is away. But let's take a look at the fabulous bingo games they offer:
Bingo Central − This popular online bingo games features play with cash or bonus bucks, aware-winning chat games and the ability to play slots and poker on the side.
Desperate Lounge Bingo − Enjoy the hot action of this exciting game with cash or bonus bucks, which features a striptease game every Saturday with well−endowed jackpots and spicy and naughty chat games.
SS Low Max Bingo − All the action at a fraction of the cost, which features $.10 cards in a cash only room with huge cash prizes.
Blackout Bingo − Big prizes awarded in this game due to being a cash-only game, which begins during prime time with the option of playing slots and poker on the side.
Fair N' Square Bingo − Equality at it's finest. Every player plays with the same number of cards, with the option of playing slots and poker on the side.
Desperate Housewives Bingo is part of the World Bingo Network.
Find out what is in store for you, while playing at Desperate Housewives online bingo room, and tell a friend to come over and have a chat!