BingoHeart
At BingoHeart, their mission is to provide legal, safe, and secure purchases for the widest selection of Online Bingo games. The company, has been a recognized leader since 2003, giving away Roomies more than $2 million in monthly prizes. In addition, they've been awarded Chat Monitor (CM) of 2004, simply by providing their Roomies with lots of fun and excitement during game time.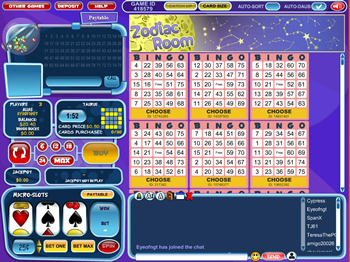 They have several rooms to choose from Blossoms Room to USD room( in English) to EUR Room and GPB(Spanish) room. With tournaments for all. Special pattern games with fixed pots!!
Come to the Bingoroom Network Pajama Party each Friday and Saturday night from 10pm-midnight. Play in our Zodiac room from 10pm-11pm for fixed $20 pots all hour and watch out for the special "POPCORN" pattern, it has a guaranteed jackpot of $200!!! Then join us in the Disco room from 11pm - midnight for fixed $15 pots all hour and double Bingo Bucks for this room! Don't forget your favorite PJ's!!!
Each month there is a different promotion…Go check them out!!!