BingoWorkz Bingo
BingoWorkz Bingo is no longer available online due to unforeseen circumstances. We suggest trying bingos in our Bingo Bonus section.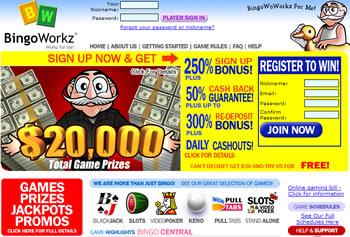 What "workz" for some may not work for others, that's why you see so many rituals and superstitious-type play in a bingo hall. If you believe wearing a tin foil hat and no underwear increases your odds of winning at bingo, then you're right, for the power of belief is the greatest power of all.
Best of all, you don't have to feel self-conscious about your superstitions or rituals while playing from the comfort of your own home at BingoWorkz, play online bingo games, slots, blackjack, video poker and other online games as well, but you may want to close the blinds just in case.
Here you can enjoy all the excitement and fun of the bingo hall without worrying that others will have you committed for, well, playing naked for instance.
New players will receive a nice sign up bonus, a cash back guarantee, plus a re-deposit bonus and daily cash outs! All this and a chance at winning total game prizes worth up to $20,000!
It just doesn't get much better than this. Well, actually, it does. Refer a friend to BingoWorkz and receive 100% in bonus bucks on their first deposit as well as 10% in bonus bucks on every deposit they make thereafter!
Pretty soon, a new state of the art referral program will be implemented, where you can earn bonus bucks not only on your friends, but on their friends and their friends as well!
BingoWorkz Games:
Bingo Central − Can be played with cash or Bonus Bucks. One of the most popular online bingo games!
Desperate Lounge Bingo − Can be played with cash or Bonus Bucks. Striptease game every Saturday with a huge jackpot!
SS Low Max Bingo − Cash only room with $.10 cards!
Blackout Bingo − Cash only game with prestigious prizes!
Fair N' Square Bingo − Every player plays with the same amount of cards!
Started in 2001, BingoWorkz introduced one of the first bingo games in Macromedia Flash making downloadable time quick and easy. They are part of the World Bingo Network which serve over 500,000 players from around the world.
BingoWorkz also offers blackjack, slots, keno, pull tabs, stand alone slots and video poker. Waiting for a game? Why not make a little extra dough on the side by playing one of these games?!