Baraka Bingo
Baraka Bingo is a solid bingo offering with some good promotions and a great base of friendly players ready to go after that money. Baraka Bingo features a very visually appealing purple and gold color scheme and fuchsia chat windows, it goes together nicely. Chatting is just as high of quality as that of any instant messenger these days, Baraka bingo even has emoticons.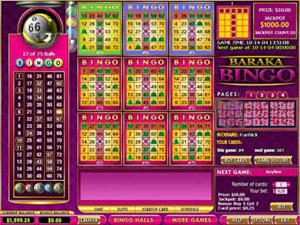 Upon making your first deposit you can choose to receive a 110% sign up bonus, once you take this your still eligible for up to a 60% bonus on all deposits made later on. Deposit bonuses are always helpful in increasing your bank roll and giving you a better chance of winning. Baraka Bingo also has a loyalty program so when you deposit you gain points towards rewards. The more you play the more points you get also, plus there are certain tournaments where you can gain points towards these rewards too.
Baraka Bingo has 5, 10, and 25 cent games. Chat specials are played every day, something new every hour. There are lots of chances of finding a game you will like. A large number of extra games are offered. There are three and five reel slots, Megaball, Keno, Roulette, and a variety of other video poker and slot games. Every time I would get down on any game I'd go wager my losses on roulette and somehow won every single time, talk about staying in the game!
Ninety ball and seventy five ball bingo are both offered, seventy five being the more popular of the two. You can daub your card yourself or select auto daub if you don't feel like paying attention, either way it's not to big of a deal because the game knows your card and will alert you if you win. Daubing is the best part in my opinion!